EDWARD CAREY is a writer, illustrator and playwright who was born in North Walsham, Norfolk, England, during an April snowstorm. His father and grandfather were officers in the Royal Navy and, like them, he attended Pangbourne Nautical College. After that, he joined the National Youth Theatre and went on to study theatre at Hull College.
He has written extensively for the stage and his plays have been put on at the National Theatre of Romania and the Vilnius Small State Theatre, Lithuania. In England his plays and adaptations have been performed at the Young Vic Studio, the Battersea Arts Centre, and the Royal Opera House Studio. He has worked on the stage adaptation of Robert Coover's novel Pinocchio in Venice, on a shadow puppet production of Macbeth in Malaysia and with the Faulty Optic Theatre of Puppets. His works have been translated in over 20 languages.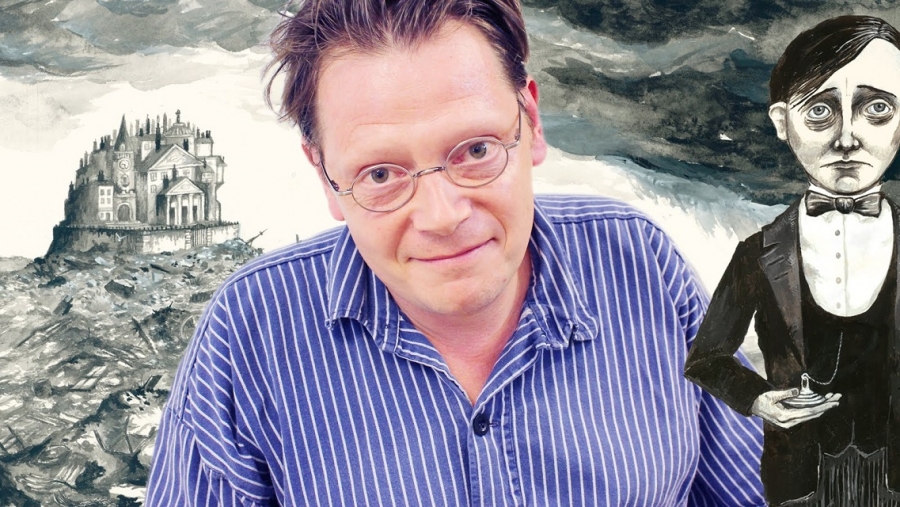 Edward Carey lives in Austin, Texas, with his wife, writer Elisabeth McCracken, and their family. He teaches at University of Texas at Austin.
Wax heads, uncanny twins, whispering objects, puppets, living statues: a wonderful cast of eerie, quirky characters populate Carey's visionary oeuvre.
Edward Carey's visual art and writing go hand in hand, as the author illustrates all his books and draws and/or sculpts his characters in different media as a means of getting to know them in depth. His writing is visionary and imaginative and populated by a cast of wonderfully eerie characters. His debut novel Observatory Mansions (2002) is about a man who works as a living statue and an eccentric bunch of housemates in a crumbling apartment complex. His second novel, Alva and Irva. The Twins who Saved a City (2003), tells the story of two identical twins with opposite character traits in the fictitious city of Entralla. The acclaimed YA Iremonger Trilogy is inspired by Charles Dickens, whom Carey acknowledges as one of the major influences on his work. It is set in an imaginary borough of Victorian London, a massive dump for the city's garbage where its dwellers can hear objects whisper. His sixth novel Little (2018), inspired by Carey's own experience as a young man working in Madame Tussaud's museum, follows the life of Madame Tussaud, who learnt the art of wax casting as a young apprentice to an anatomist and went on to display wax heads throughout the French Revolution.
In 2018 Carey held a Writer Residency at Meyer Paediatric Hospital in Florence and created a series of artifacts – Geppetto's creations – which were exhibited in the Parco di Pinocchio (Collodi). This experience was the inspiration for his latest novel The Swallowed Man (2020), which lends a new voice to Geppetto and imagines how he spent two years of his life inside the whale, reminiscing about his life and creating art objects to survive.
During lockdown Edward Carey has drawn a sketch a day, which he posts on his website and Twitter. A way of surviving the pandemic, a bit like Geppetto in the belly of the whale.
The Swallowed Man by Edward Carey (176 pages)
Published by Gallic Books / Belgravia – 5 Nov. 2020
Links:
A Drawing a Day lockdown project on Edward Carey's Instagram page, to be published in B: A Year in Plagues and Pencils, after Edward's favourite type of pencil. Fortcoming November 2021 with Gallic Books.
https://www.instagram.com/edwardcareyauthor/
Edward Carey's Website:
https://edwardcareyauthor.com/
The Iremonger Trilogy's interactive page: scroll down, click on the pictures and discover the fantastic world of the Iremongers:
https://edwardcareyauthor.com/books/the-iremonger-trilogy/
Edward Carey's page at Gallic Books:
https://belgraviabooks.com/writer/edward-carey