The first of its kind, Busker's Night aims to provide an intimate setting to hear some of the most loved original music buskers of Dublin. Away from the noise of busy Grafton street, each musician will perform 4 of their original songs, along with an interview by Pinocchio Magazine's charismatic editor Giuseppe.
Dublin is world-famous for its culture of Buskers singers.
Indeed a lot of Irish singers and bands such as Glen Hansard, Bono, KeyWest or Damien Rice started their career in Grafton Street.
Our buskers singers are recognised for their charm and originality, their music is catchy and cannot be heard anywhere else.
To pay tribute to them, we are excited to announce that Pinocchio Magazine will organize an event in the Cellar at Workman's Club,the 11th of June at 8pm.
This gig will be the stage for four amazing buskers singers chosen by our music director David Owens, a real pillar of the buskers community.
David Owens
David Owens is one of the most recognised buskers in the world. Amassing millions of views on YouTube with his signature black baby grand piano on Grafton st, he regularly attracts large audiences with his original music show. Currently David is beginning a five year journey towards headlining in the Olympia theatre, and inviting his fans to follow the ride online.
Dylan Harcourt
Dylan Harcourt has become a favourite amongst other Irish musicians over the past few years. His warm low voice matches his songwriting perfectly and he has played his music to audiences across England, Italy and Germany. A beloved staple of Grafton street, Dylan brings the simplicity of a man-with-a-guitar show to the top level. No frills, just great music.
Roe Byrne
Roe Byrne is one of the most promising young acts to emerge in Ireland over the past year. Dermot Kennedy recently named him as Ireland's next breakthrough act, and when you hear Roe's voice and impressive songwriting it's easy to see why!
All Things Eve
"Introducing All Things Eve, a captivating German singer/songwriter who has found her musical haven in the city and streets of Dublin. With an enchanting blend of folk, pop and a touch of jazz, All Things Eve weaves a tapestry of melodic storytelling that resonates deeply with her audience."
TICKETS: https://www.eventbrite.com/e/buskers-night-workmans-cellar-hosted-by-pinocchio-magazine-tickets-639200244137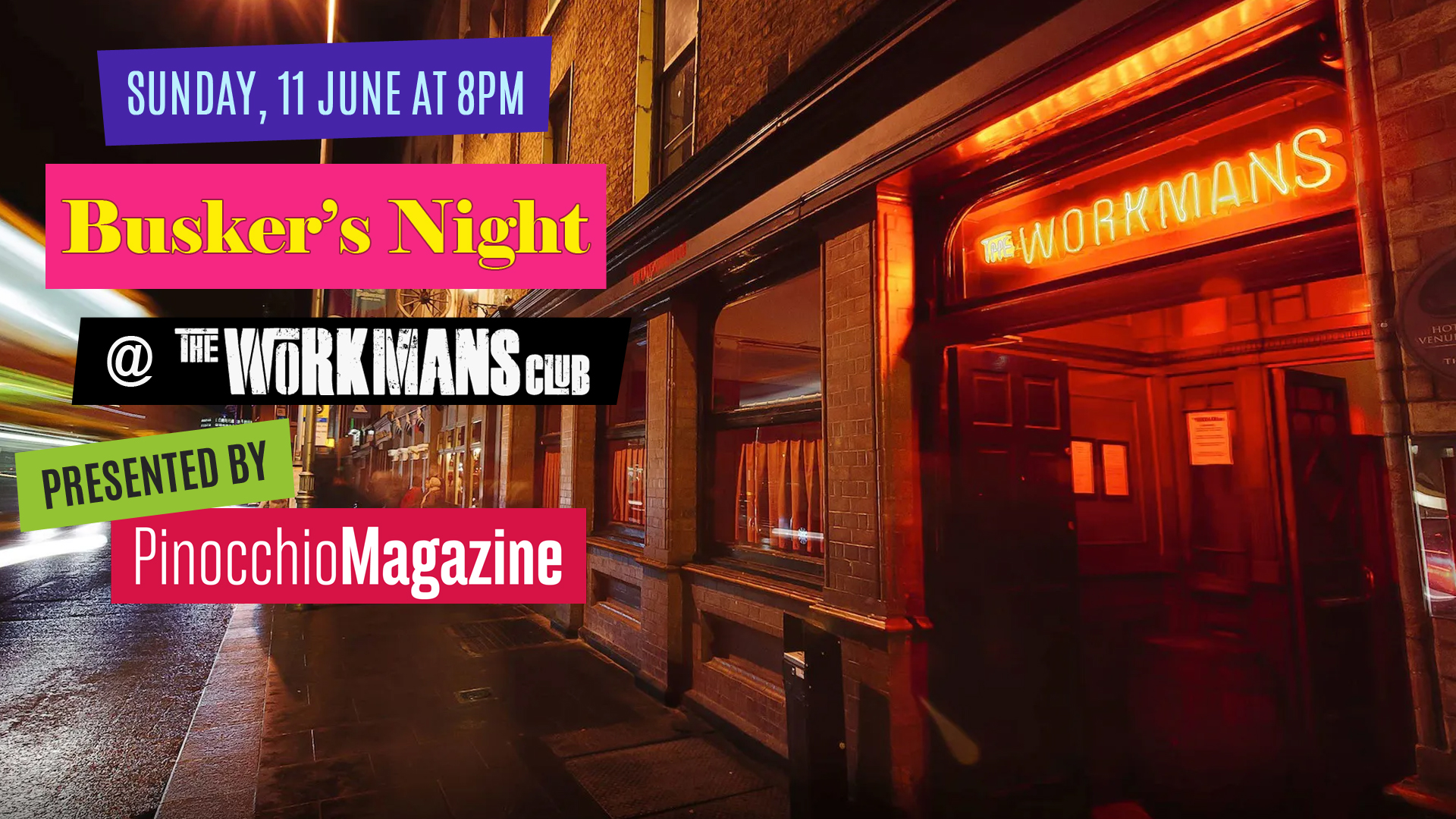 Read also: