Winners of the annual RDS Craft Awards were announced on the 5th April, where five emerging Irish craft makers and designers each received a €10,000 cash prize to support the development of their craft & business skills – and a much sought after free stand at the annual GIFTED – The Contemporary Craft & Design Fair which runs at the RDS each December. In addition to this the winners will also benefit from six hours of targeted mentoring with a craft & design professional.
Since 2018 the RDS Craft Awards, in its present guise, has awarded a quarter of a million euro €250,000 in supports to emerging Irish makers. The awards are based on a bursary style model and can be spent on further education and training, research, development of new work, mentoring, purchase of equipment, studio improvements, website and residencies. This year's applicants displayed 'sustainability' as a key driving force behind their work.
The Design & Crafts Council of Ireland's Future Makers programme is the qualifying competition for the RDS Craft Awards. The quality of this year's applications was outstanding, and the ten shortlisted craft makers and designers went through a rigorous two stage selection and judging process to result in the five winners we see today. They are a real tribute to the professionalism and talent of the emerging makers coming into the professional craft sector this year.
The 23 RDS Craft Art Awards applications were reviewed by a judging team of 5 independent craft & design professionals who reviewed them from the 2021 Future Makers winners, and in turn shortlisted 10 candidates to attend interview in the RDS last month. Before selecting the final 5 winning makers today, StevanHartung [Furniture Designer & Maker]; Mary Palmer, [Textile Artist]; Nuala O'Donovan [Ceramic Artist]; and Siobhán Riordan, [Business Mentor], the members of the expert judging panel, and which is chaired by Dr. Jennifer Goff, [Curator of Furniture, Music and the Eileen Gray collection at National Museum of Ireland]. Dr Goff comments on the high standard of this year's awards:
"Over the last two years the RDS Craft Awards has continued to be a beacon of light for Irish craft makers. Once again, in 2022, the work submitted across Ireland represents the best of Irish design, decorative arts and craft. Irish makers continue to innovate, question, and challenge. It is wonderfully inspiring to see what Ireland's makers are producing and to witness the resulting impact that their work has and will have on both a national and an international level. Their standard of excellence remains." – Dr Jennifer Goff, Chair of RDS Craft Awards Judging Panel.
Geraldine Ruane, RDS Chief Executive said, "Since the RDS Craft Awards was restructured in 2018, the RDS has invested €250,000 in 25 Irish craft makers and designers starting out in their professional careers. We are delighted to contribute to the development and growth of standards of excellence in the craft sector through our support of these talented makers. I know that all five winners will use the prize money to accelerate their career progression and I look forward to seeing their future success."
AND THE 2022 WINNERS ARE ….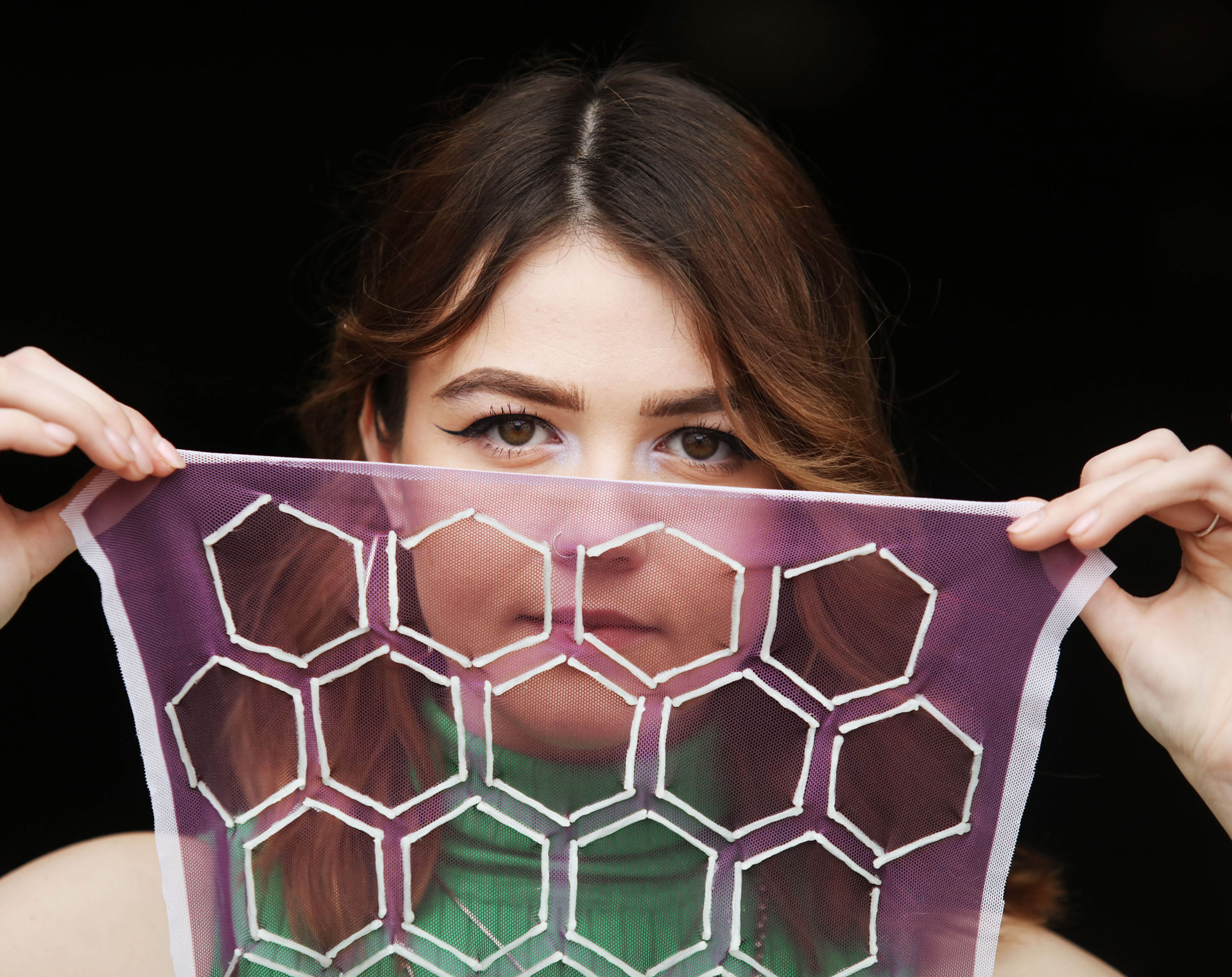 Amy Kerr – Textile and Surface Design
Amy graduated from NCAD in 2021 with a First Class Honours Degree in Textile & Surface Design. She was the winner of the first ever Future Makers Sustainable Design Award in 2021 and the Textiles Category at the IDI Graduate Design Awards in the same year. Amy's work appreciates the importance of traditional craft while also working along side the newest and emerging technology including 3D printing, in order to work towards a more sustainable future. She is planning to undertake a Masters in Textile innovation and Engineering in the Netherlands which focuses on collaboration between science and textile design to create more sustainable processes, materials and ways of living. Amy will use her 10k RDS Craft Award to purchase a new weaving loom which will allow her to explore a huge variety of woven structures and new design possibilities.
@ak.textiles – Instagram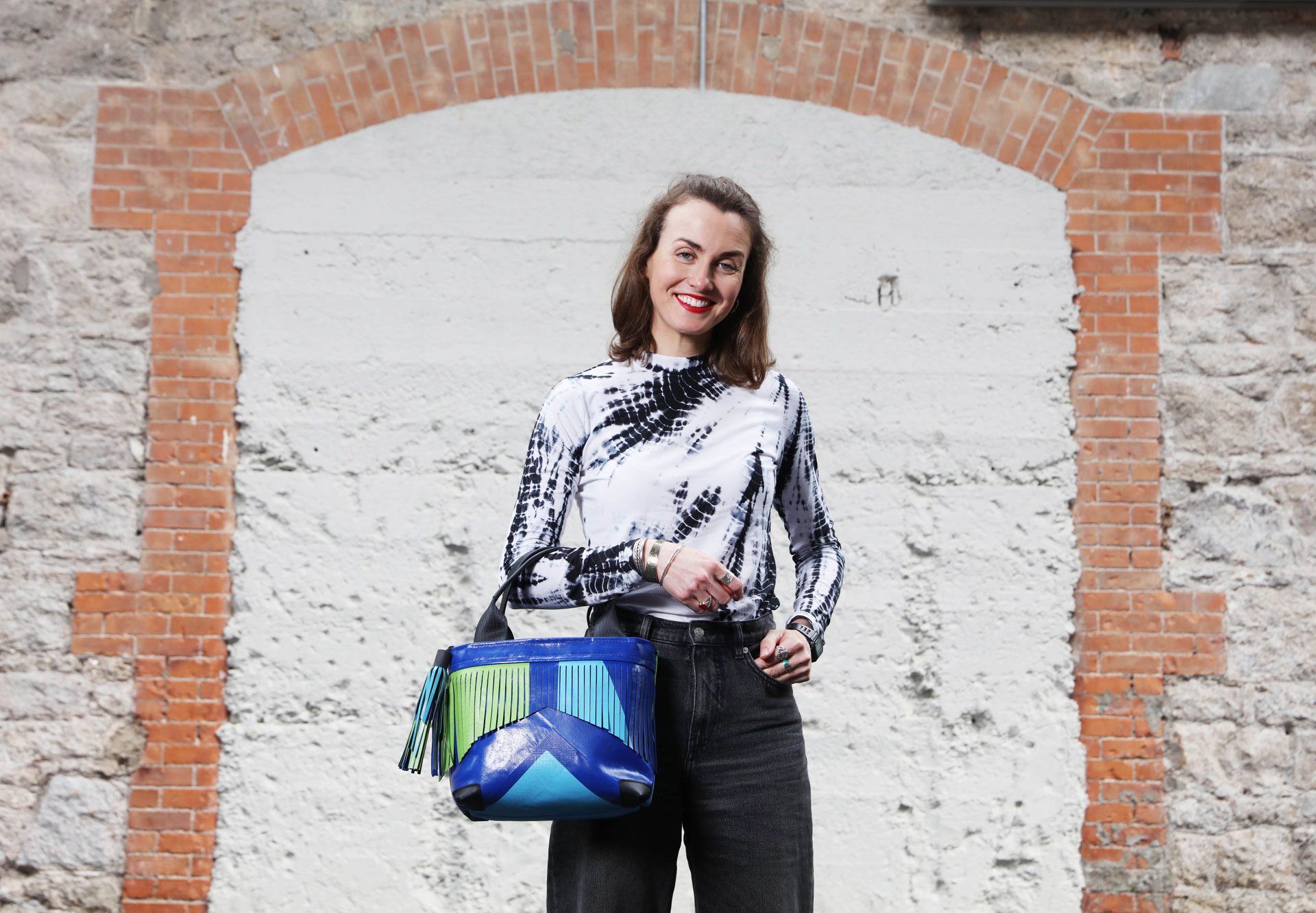 Síofra Caherty – Fashion and Accessory Design
Síofra is a Belfast-based designer, maker & educator with an MFA in Multidisciplinary Design from the Belfast School of Art. She has won several awards including a prestigious Winston Churchill Memorial Trust Fellow in 2018 – 'Building a Zero Waste Community' and in 2021 a Future Makers Award, Training Support. Síofra is relentless in her pursuit of creating beautiful and valuable objects from what others would consider 'waste' material. A life-long commitment to sustainability has resulted in the founding of her studio, Jump The Hedges. She create bags from waste materials & leads workshops on sustainable design & activism. She will use the prize money to further develop her bag making and leather working skills by attending a 3 month course in the leading school for bag making internationally; Scuola del Cuoio in Florence, Italy.
Fintan Mulholland – Knitwear
Fintan produces uniquely constructed quality knitwear using only natural yarns from his studio in Co. Monaghan. He completed a Masters in Fashion Knitwear Design at Nottingham Trent University in 2015, following on from a Bachelor's Degree in Textile Art Design with Fashion from Belfast School of Art in 2014. His undergraduate knitwear collection won a number of prestigious awards including the InisMeáin Creative Knitwear Award, The Institute of Designers in Ireland Graduate Fashion Design Award. His work was selected to sell in Brown Thomas, as part of its 'Create' programme in 2016 and 2018. Fintan won a Future Makers Studio Support in 2021. Fintan will use the award money to upgrade his manufacturing and processing equipment, and will be able to focus on the development of his brand by working closely with agencies on PR, marketing and promotion.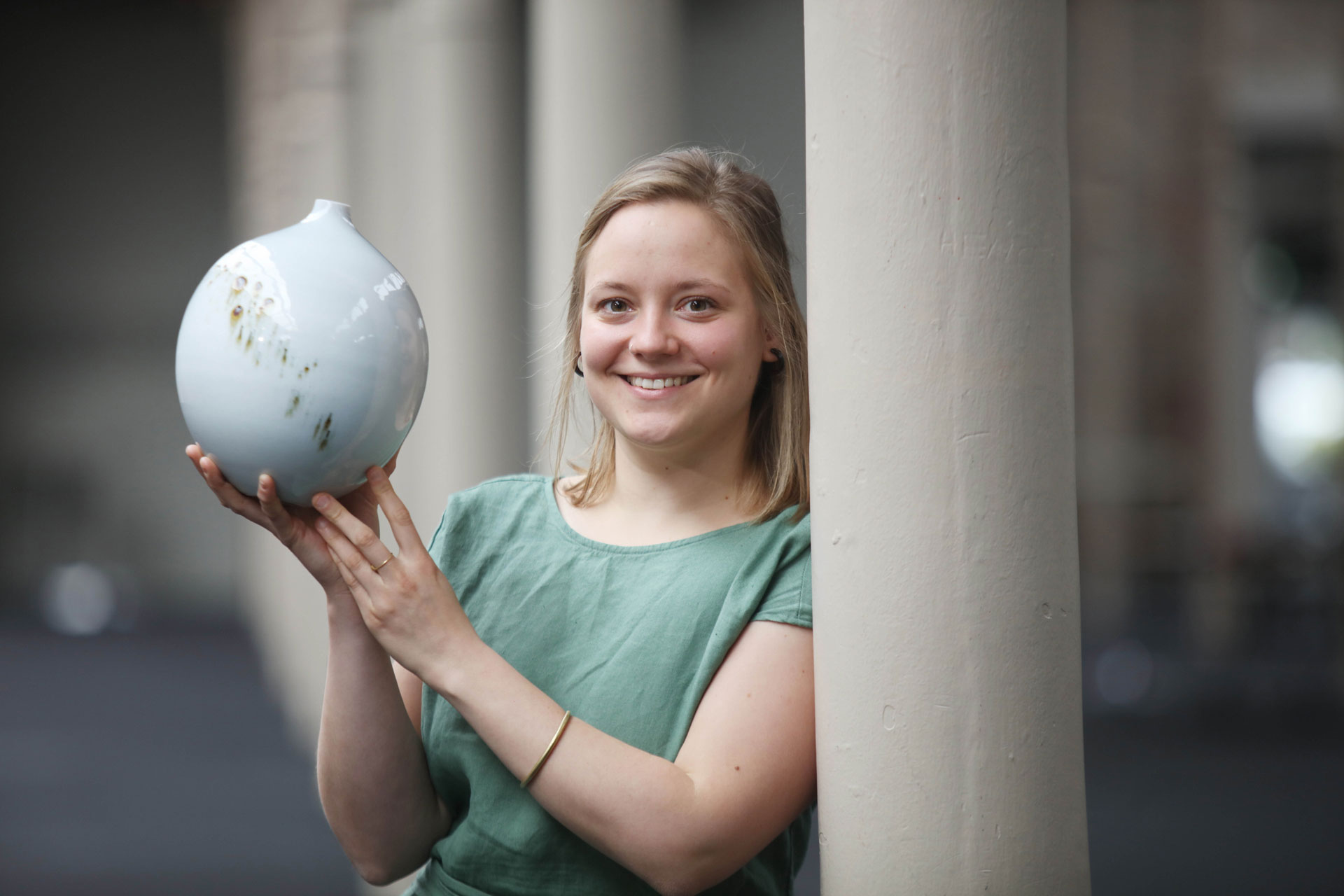 Katharina Treml – Ceramics
Katharina is an Austrian-born potter based in Co.Kilkenny. She makes beautiful wheel thrown functional tableware and one-off decorative pieces in stoneware and porcelain. She graduated from the Design & Crafts Council Ireland's renowned Ceramics Skills & Design course in 2020 and was the Overall Student Winner in the 2021 Future Maker Awards. She has exhibited her work widely and was included in the recent Made in Ireland Exhibition at the National Design & Craft Gallery in Kilkenny. Katharina will use her prize money to gain a deeper knowledge about rock glazing and woodfiring and will attend courses in both. She will also invest in some new equipment for her studio and invest time in testing new wood fired glazes from local materials.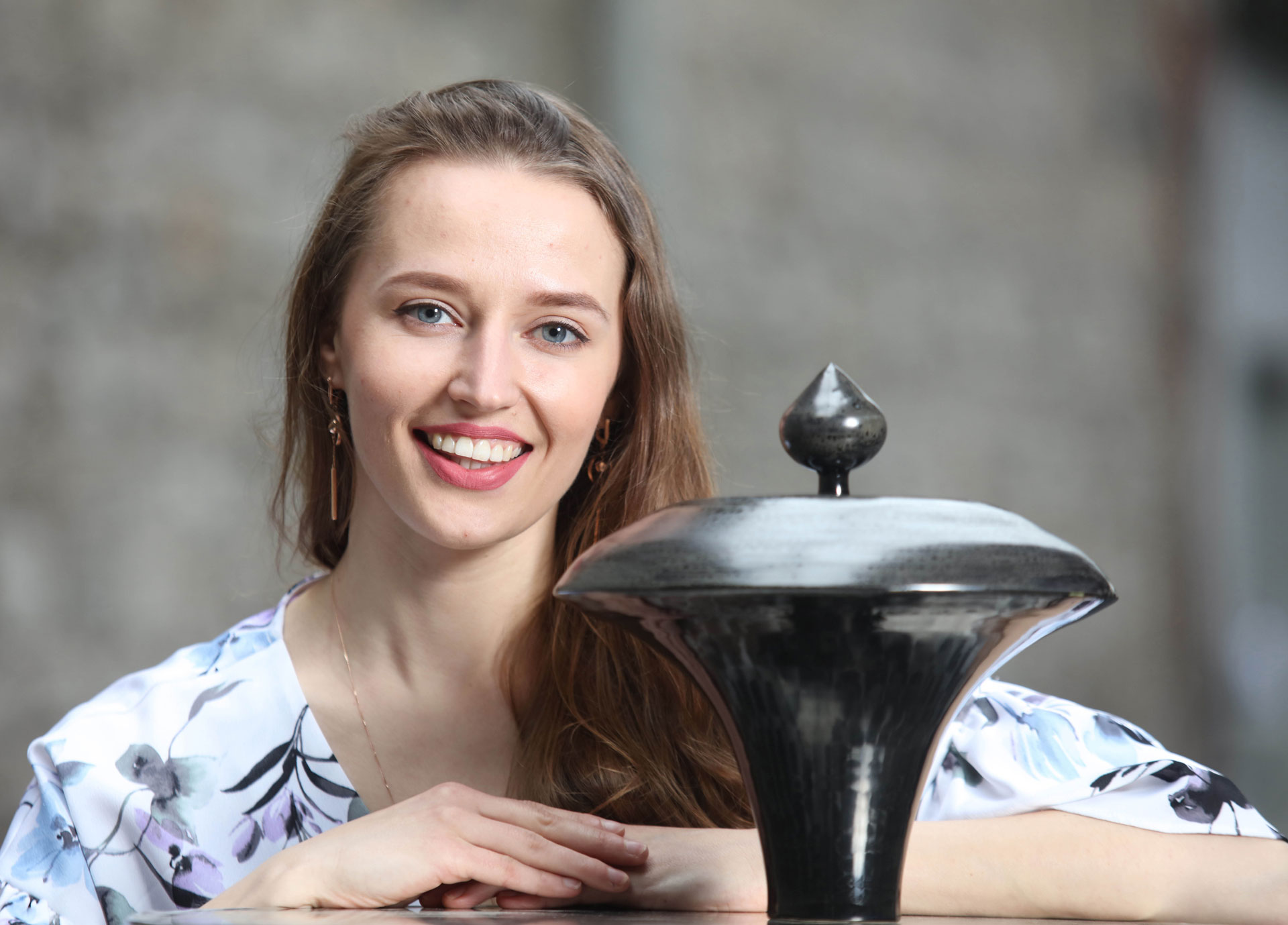 Laura Matikaite – Ceramics
Laura is a ceramic artist based in Co. Laois of Lithuanian heritage. She has a degree in Ceramic Design from Limerick School of Art & Design and graduated from the Design & Crafts Council Ireland's Ceramic Skills and Design Course in 2020. Laura makes contemporary ceramic forms that are a combination of design and intuition using both functional and decorative forms. She uses stoneware and porcelain and makes her own glazes and has exhibited her work widely. In 2021 she was awarded a Future Makers Professional Development Award. Laura will use the RDS Craft Awards prize money to purchase a gas reduction kiln for her studio which will enable her to achieve different glazes and to create work of larger scale and quantity.
FURTHER INFO at: https://www.rds.ie/rds-foundation/arts/craft-awards
SOCIALS:
FACEBOOK: @rdsdublin
TWITTER: @TheRDS
INSTAGRAM: @rdsdublin
YOUTUBE: https://www.youtube.com/results?search_query=RDS+dublin