Pan Pan presents the world premiere of MESPIL IN THE DARK LIVE at the Samuel Beckett Theatre from the 6th to the 10th of September 2022, featuring Pauline Hutton, Ahmed Karim Tamu, Robert O'Mahoney and An Cailín Ciúin's Andrew Bennett.
Last year, Pan Pan peered through the curtains of Ireland's first modern post-war flat complex to observe the daily journeys of a group of actors and artists as part of the MESPIL IN THE DARK digital series. They watched these individuals who lead lives of quiet desperation just about stave off failure and make a living.
MESPIL IN THE DARK LIVE seeks to ask the question: what can theatre do that film can't?
Who belongs in the limelight and who spends their life waiting in the wings, destined to be the understudy? Will we ever be able to turn off the emergency exit light?
What do the Scottish play, the green room and break a leg all have in common?
What moments remain with us when the lights go out?
Pan Pan invites you to take a closer step into their bohemian oasis in the centre of a contemporary city at MESPIL IN THE DARK LIVE.
Tickets available from HERE
MESPIL IN THE DARK LIVE will preview on Monday 5th September and open on Tuesday 6th, running until Saturday 10th September. All showings at 7:30pm.
This project was supported by the Arts Council's Commissions Award 2020, Brightening Air and Arts Council Strategic Funding.
SOCIAL MEDIA:
FACEBOOK: @panpantheatre
TWITTER: @panpantheatre
INSTAGRAM: @panpantheatre
HASHTAG: #MespilLive #MespilInTheDark
Created by
Andrew Bennett
Aedín Cosgrove
Jimmy Eadie
Pauline Hutton
Grace Morgan
Eugene O'Brien
Robert O'Mahoney
Gavin Quinn
Mary Sheehan
Ahmed Karim Tamu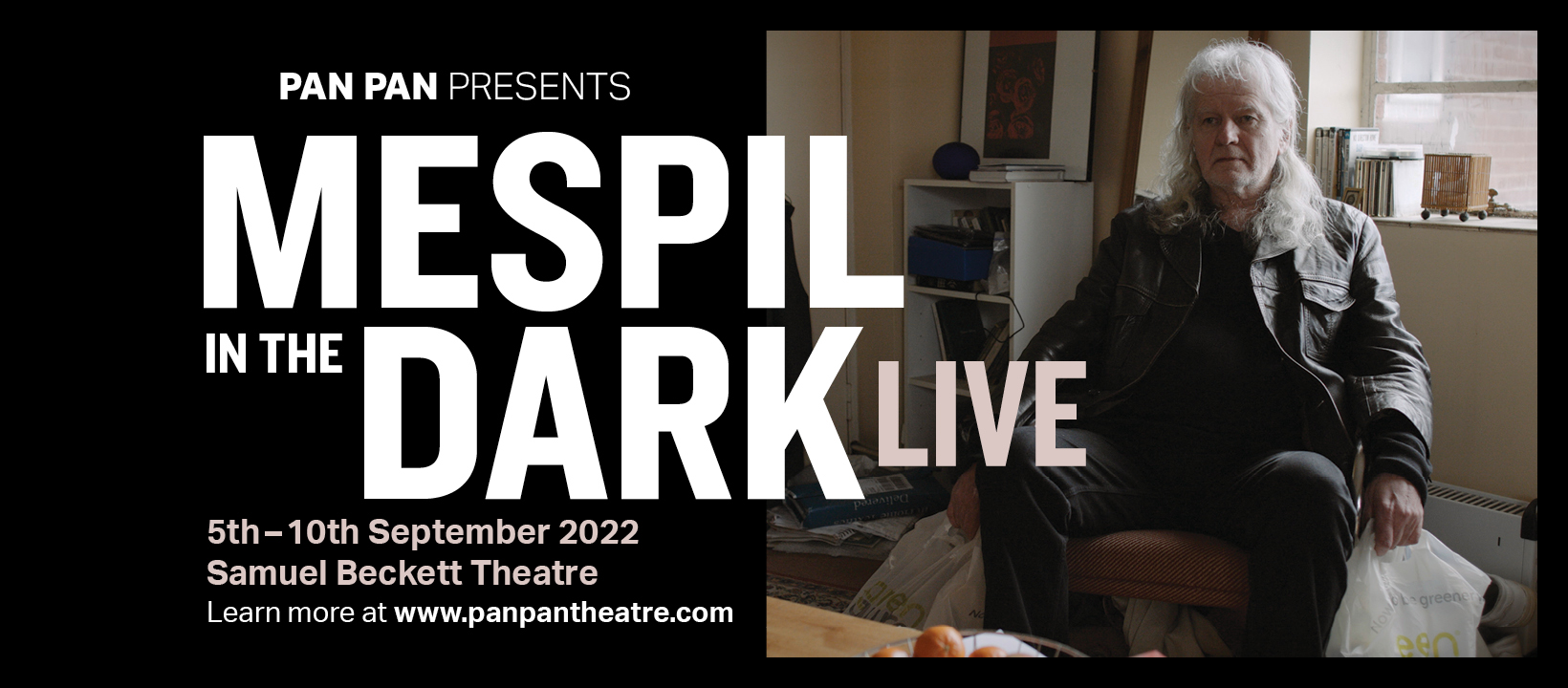 Pan Pan
Pan Pan was founded in 1993 by Co-Artistic Directors Aedín Cosgrove and Gavin Quinn.
The company has created 50 new theatre and performance pieces, touring its work to the most prestigious festivals and venues worldwide, including BAM, the Lincoln Centre, the Kennedy Center, the Barbican, Hau Berlin, NCPA Beijing, Sydney and Melbourne Festivals, and received multiple national and international awards, including the Herald Angel Award at the Edinburgh International Festival.
Since its inception Pan Pan has consistently examined and challenged the nature of its work and has resisted settling into well-tried formulas. Developing new performance ideas is at the centre of the company's mission, which is born from a desire to be individual and provide innovation in the development of theatre art. All the works created are original, either through the writing (original plays) or through an idiosyncratic response to established writings.
Pan Pan tries to approach theatre as an open form of expression and has developed an individual aesthetic that has grown from making performances in a host of different situations and conditions. The theatre that Pan Pan creates is of a contemporary attitude.
Pan Pan creates original performances that are accessible and engaging for diverse audiences. Using various artistic disciplines in unique combinations, we challenge the conventions of theatre. From initial concept to full production, we encourage collaboration, experimentation and originality in creative artists by providing the tools and opportunities to realise collaborators' artistic goals.