Image by Michael-David McKernan
Welcome to Hotel Happiness. An escape from reality. A retreat from yourself. A time to switch off, let go, fantasize, forget. With one rule only, you must come completely alone in a place where time does not exist. No interruptions or distractions from the outside world.
Two women find themselves each in their own private customised room. But what happens when their two worlds collide?
In this new theatre piece Chaos Factory explores the transformative power of connection. In the fictional hotel Hotel Happiness, guests do not pay money, but instead must send a video application expressing their need and desire for this time alone, in hope of receiving a room for the night. Guests are promised solitude for 24 hours, but in an unexpected collision of two women in one another's lives, when they are forced to spend their time in this hotel room together. Conversations form around themes of grief, the complexity of motherhood, relationships and the female body the productions examines the intimacy that can form between two strangers.
Inspired by Japanese purpose-built hotels such as 'crying rooms', where women are encouraged to spend a night in a hotel dedicated solely to crying; each room decked out with tissues, tear jerking music and sad films, Hotel Happiness is not like the many hotels that continue to take over Dublin and other major cities across the world.
SOCIAL MEDIA:
INSTAGRAM: @factorychaos
TWITTER: @FactoryChaos
CREATIVE TEAM
Created by: Rachel Bergin, Venetia Bowe &Fionnuala Gygax
Performed by: Venetia Bowe & Fionnuala Gygax
Directed by: Rachel Bergin
Directed by: Luke Casserly
Composition & Sound Design by: Denis Clohessy
Set Design: Clara Cohen
Lighting Design: Dara Hoban
Commissioned by Project Arts Centre. Supported by Mermaid, Dublin City Council, and Fishamble's New Play Clinic and developed at FRINGE LAB. Development funded by the Arts Council of Ireland.
LISTING INFORMATION:
Dublin Fringe Festival:
Project Arts Centre – The Cube
PREVIEW: 11 September 18:30
PERFORMANCES: 12 – 14 & 16 September 18:30, €15/ €13
OTHER PERFORMANCES: 15 & 17 September 21:15, €15/ €13
Tickets: www.fringefest.com
Mermaid Arts Centre
PERFORMANCES: 24th September 20:00, €18/€16
Running Time: 60mins
Age Recommendation: 16+
Chaos Factory
Chaos Factory is an experimental, Dublin-based theatre company founded in 2018 by FionnualaGygax, Danielle Galligan, Venetia Bowe and Rachel Bergin and now led by Rachel Bergin, Venetia Bowe &FionnualaGygax. The company's first production Kiss Kiss Slap Slapdebuted to a sold out run in Dublin Fringe Festival 2018.
The company was born out of a mutual interest and passion for work that is innovative, radical and physically led. They want to work collaboratively to devise ambitious contemporary work which pushes the boundaries of conventional narrative frameworks and theatrical form.
Chaos Factory is currently mentored by leading Irish theatre company Brokentalkers. Through this mentorship, Brokentalkers have guided them in the creation of our latest work Hotel Happiness and in developing their working methodologies as a company and creating collaborative work through a devised process with their creative teams.
Their work is physically led, keeping the body at the centre of their exploration. They are dedicated to creating ambitious, multidisciplinary theatre that examines contemporary society. They experiment with theatrical form to find original ways of presenting material, creating theatre that is playful, strange and beautiful.
In 2019 Chaos Factory received an Arts Council Project Award to develop new work MorphMe, an examination of Body Dysmorphic Disorder in the beauty driven world of today.. A work-in-progress performance of MorphMe was presented as part of Live Collision International Festival, 2019 as part of BITE SIZE // SCRATCH. This production was set to premier at Project Arts Centre in 2020 but was cancelled due to Covid.
In 2022 Chaos Factory are now delighted to present their second full production as part of Dublin Fringe Festival.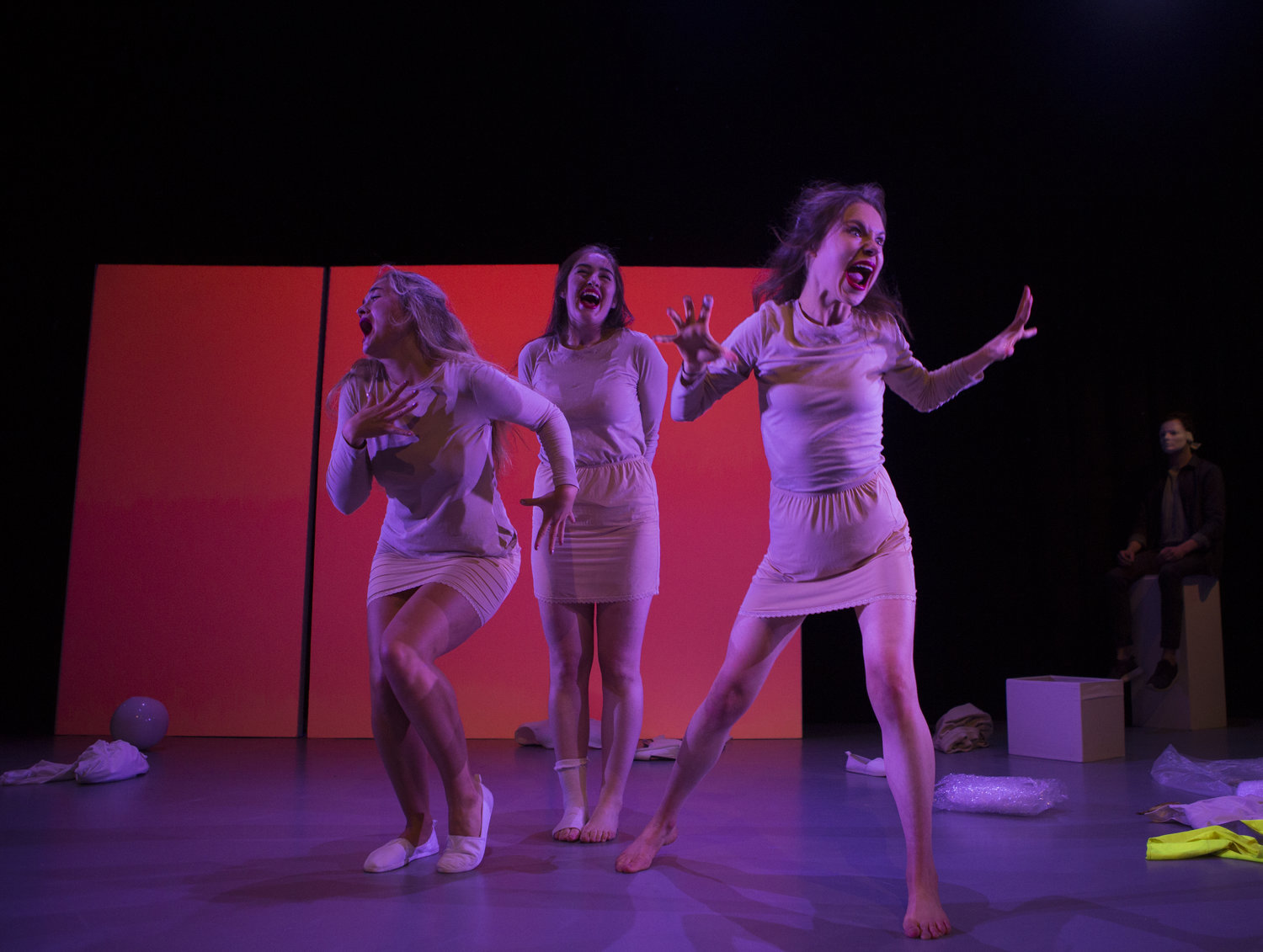 Fionnuala Gygax  
Fionnuala is an actor, theatre-maker and writer based in Dublin. She is passionate about creating contemporary theatre work and writing bold new works for film and television. She received a first class honours degree in Drama and Theatre Studies in Trinity College Dublin. In 2017 she trained with Philippe Gaulier in Paris. She is a founding member of Chaos Factory theatre company.
In 2022, Fionnuala wrote a theatre show for young audiences Lúminaria(produced by Backstage Longford) which toured to 10 national venues. In 2020, Fionnuala made TWENTY FIFTY for Dublin Fringe Festival in collaboration with Dan Colley (made as part of DUETS initiative), which then toured to Mermaid Arts Centre, Camden People's Theatre and Clonmel Junction Festival, UK. Fionnuala's first play HOSTEL 16 was a theatrical examination of Direct Provision in Ireland, produced in Dublin Fringe 2016. It was nominated for the Stewart Parker writing award and for Best Ensemble in the Fringe. She was also awarded a FUEL residency with Druid in 2015. She recently wrote Below Below, an 18 cast play for the Gaiety School of Acting graduating class, which premiered in Smock Alley in June 2019. She co-created Kiss Kiss Slap Slapwith Chaos Factory, an experimental piece exploring rape culture, which premiered in the Dublin Fringe Festival 2018. She also co-created Morph Me, which premiered as a work in progress in Live Collision, 2018.
In 2021, she was a FLUX Artist in Residence at Project Arts Centre. She is a Six In the Attic alumni in the Irish Theatre Institute. In 2017/2018Fionnuala was awarded the Next Generation award from the Arts Council. In 2019 she was a participant on the Pan Pan International mentorship programme, developing a new theatre piece, Watch Me (if you want), mentored by theatre-maker Johanna Freiburg (She She Pop/ Gob Squad). She was the only Irish artist to receive the i-Portunus mobilityscheme, 2019, enabling her to develop this piece for three weeks in the BallhausOst theatre, Berlin. She has been a participant on The Next Stage (Dublin Theatre Festival, 2017), SPACE programme (The Performance Corporation, 2017), participant on the Belltable Mentorship programme (2017) and EUROPOLY residency in the Munich Kammerspiele (2016).
She recently ventured into screenwriting and completed her first feature film called SONC, working with director Oonagh Kearney and producer Paddy Hayes as part of the CINE 4 scheme with Screen Ireland and TG4. She is also developing a comedy television series with Kate Gilmore called HOMEbirds.
As an actor, she most recently played the role of 'Genevieve' in The Long Christmas Dinner at the Peacock Theatre, directed by Raymond Keane and Sarah-Jane Scaife. Screen credits include:Eipicand Finky.