Over the years the Flavour of Italy Group has been actively involved with Down Syndrome Ireland to promote a healthy culture of equality and integration at any level.
Cian has been an employee at Pinocchio Restaurant for many years and he is now an important member of Pinocchio family.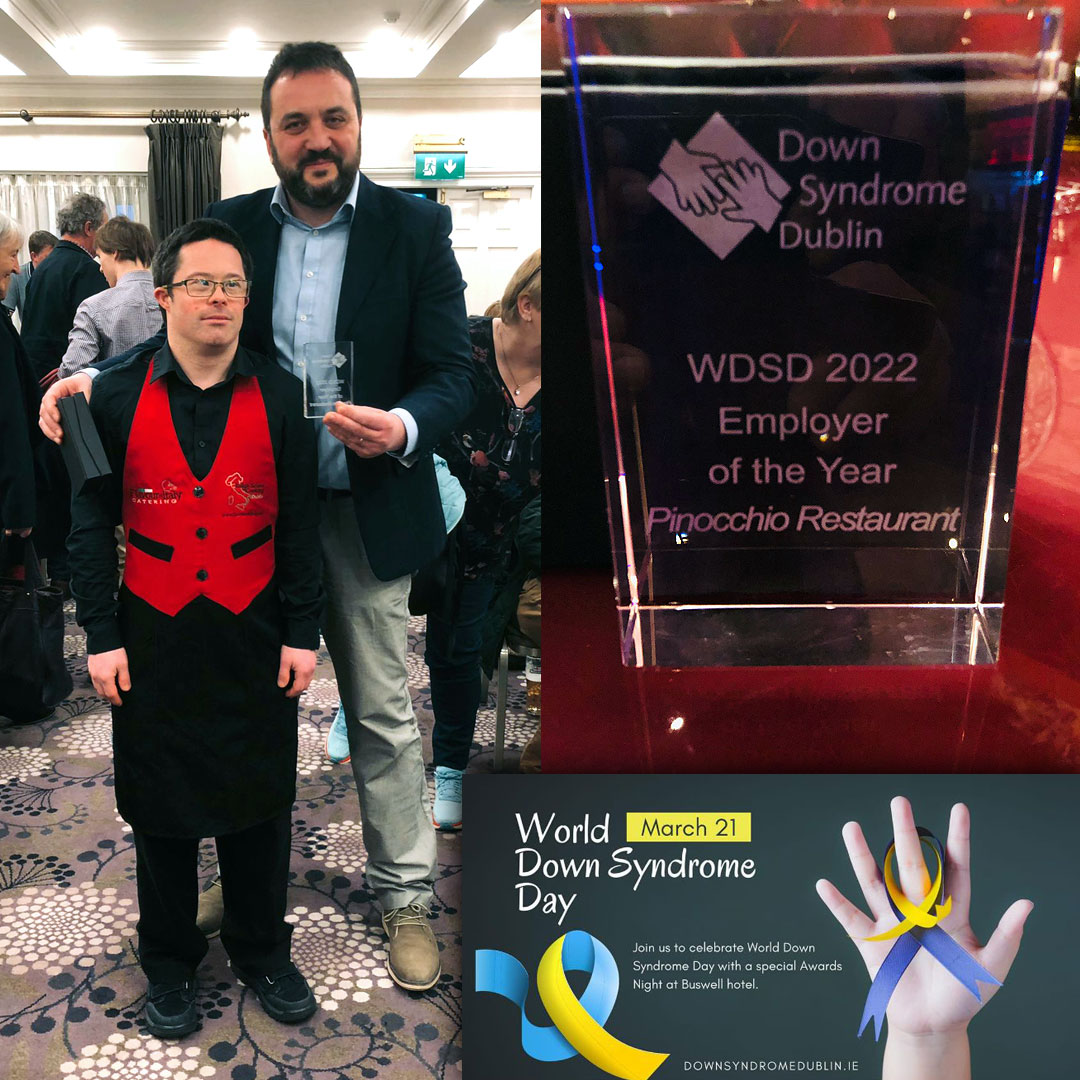 Cian and his parents Siobhán and Ruaidhri explained why they had nominated Pinocchio:
"In 2009,The offices of Down Syndrome Ireland were located close to the "The Italian School Of Cooking". Several members attended classes there, and Cian was one of them. On completion of the course he was offered the opportunity to work in their restaurant "Pinocchio", in Ranelagh. He was made to feel very welcome by all of the staff and his manager worked closely with Cian's key worker.
This relationship with Marco and the entire staff of the wider group has developed and flourished over the years. Cian works two days a week in the restaurant, with great support from his manager. His tasks include welcoming clients, setting and clearing tables, and offering menus. He wears his work clothes with great pride. He is the longest serving employee in "Pinnochio". He has featured in many of the restaurant 's social media posts. His work is practical, manageable and satisfying.
During all of the lockdowns Marco and Adela remained in regular contact with Cian with calls and texts. They offered reassurance and told him that he would be back at work as soon as possible. They also sent some takeaways to remind Cian what excellent Italian food tastes like!
Marco's philosophy is that if you have luck, you share it. We feel so fortunate that Cian has meaningful employment. He works in an environment that is inclusive and the emphasis is on ability rather than disability."
Pinocchio Magazine is glad and proud to celebrate such a meaningful award contributing to build up a better future of hope and inclusion for everyone.
#WDSD2022 #WDSD