Pinocchio Magazine is very glad to suggest this event organised by Headway:
Online quiz night! The Headway Clients Fundraising team have organised an online Quiz Night on Friday 26th February at 8.30 pm. Everything raised will be in aid of Headway. It will be a fantastic night so please join in and share this post with friends and family.
Tickets are €15 per team with great prizes to be won.
Ticket to be purchased on Eventbrite – see this link:
https://www.eventbrite.com/e/headway-online-quiz-night-tickets-139421500461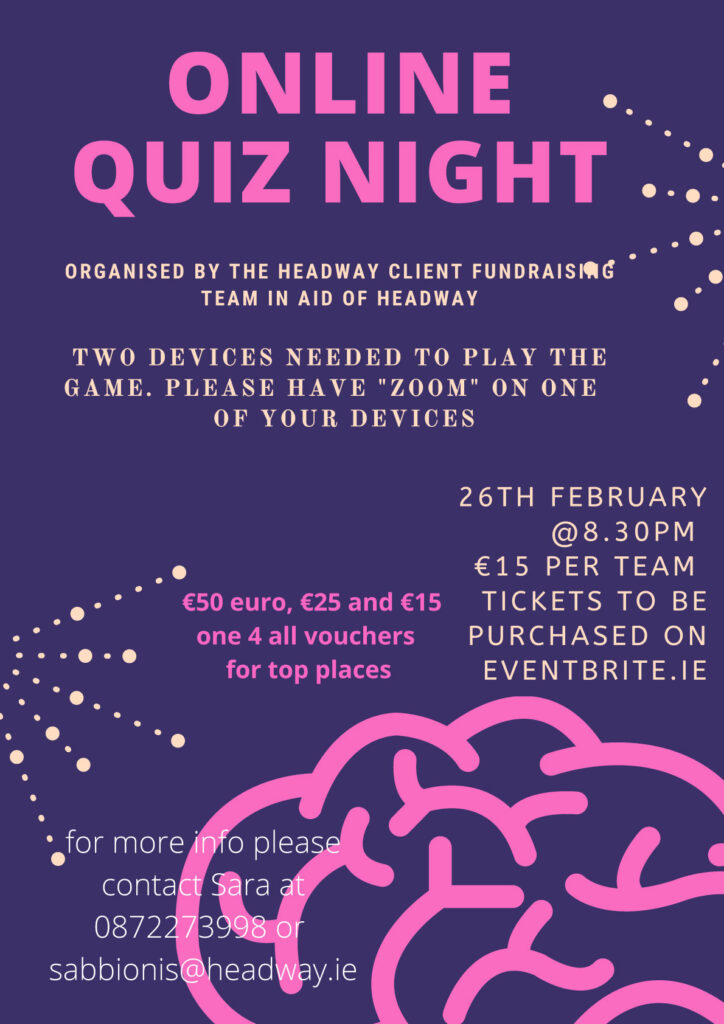 How to play:
Teams can be just one person or as many as you like but you need to be in the same location (please be aware of social distancing and any government guidelines re visitors)
You will need two devices like smartphone, laptop or tablet to play. We recommend that you use the device with the bigger screen to connect to zoom as this is where the questions will be displayed.
Please have Zoom downloaded on only one of the devices before the quiz starts.
You will use the other device to actually answer the quiz questions.
Please email or text Sara at sabbionis@headway.ie or 087 227 3998 if you need any questions.
Looking forward to seeing you all.
Read about Headway: Sara Sabbioni – A Talent In Putting Things Together