LOUISE MEADE is a visual artist who works through the medium of drawing, painting and print .
She attended Dunlaoghaire College of Art, and the National College of Art and Design. She graduated from N.C.A.D in 1983 with an Hons. Diploma in Fine Art Printmaking and Drawing.
From 1979-1980 She lived and worked in "La Ruche" Communite International des Artists, Paris.
On graduating in 1983 She became a member of  the Black Church Print Studio, and was awarded the "Independant Artists Award" for painting in 1986.
She has also been a member of Temple Bar Studios and was been on the Board of Directors of Temple Bar Studios from 1987-88.
In 2004 She was awarded the position of 'Printmaker in Residence' for Airfield Trust by the Dunlaoghaire Rathdown County Council.
Solo shows :
2014  ' SENTIENT ' Sofia , Bulgaria
2008 ' DARK NIGHT ' Original Print Gallery, Dublin
2005  ' FILAMENT ' Original Print Gallery, Dublin
2003  ' Gene Pool ' Lemon Street Gallery, Dublin
2000  ' Uncharted Waters ' Original Print Gallery, Dublin
She has shown in the ROYAL HIBERNIAN ACADEMY and ROYAL ULSTER ACADEMY Annual exhibitions, and has shown in group shows at THE NATIONAL ARTS CLUB,  NEW YORK
THE UNITED ARTS CLUB, DUBLIN
GARTER LANE ARTS CENTRE and SLIGO and CLONMEL ART CENTRES
In her work she explores the nude as a portal through which the artist and viewer may access the silent potential of the observed moment. The pulsating presence of the human figure drawing us to consider our existential being. Naked we are born and clothed for protection. The nude conveys the human in its most vulnerable state.
"An intimate scene is set,  the life model poses in quiet stillness. The artist enters in respect and trust to the vulnerability of the naked human presence" – Louise Meade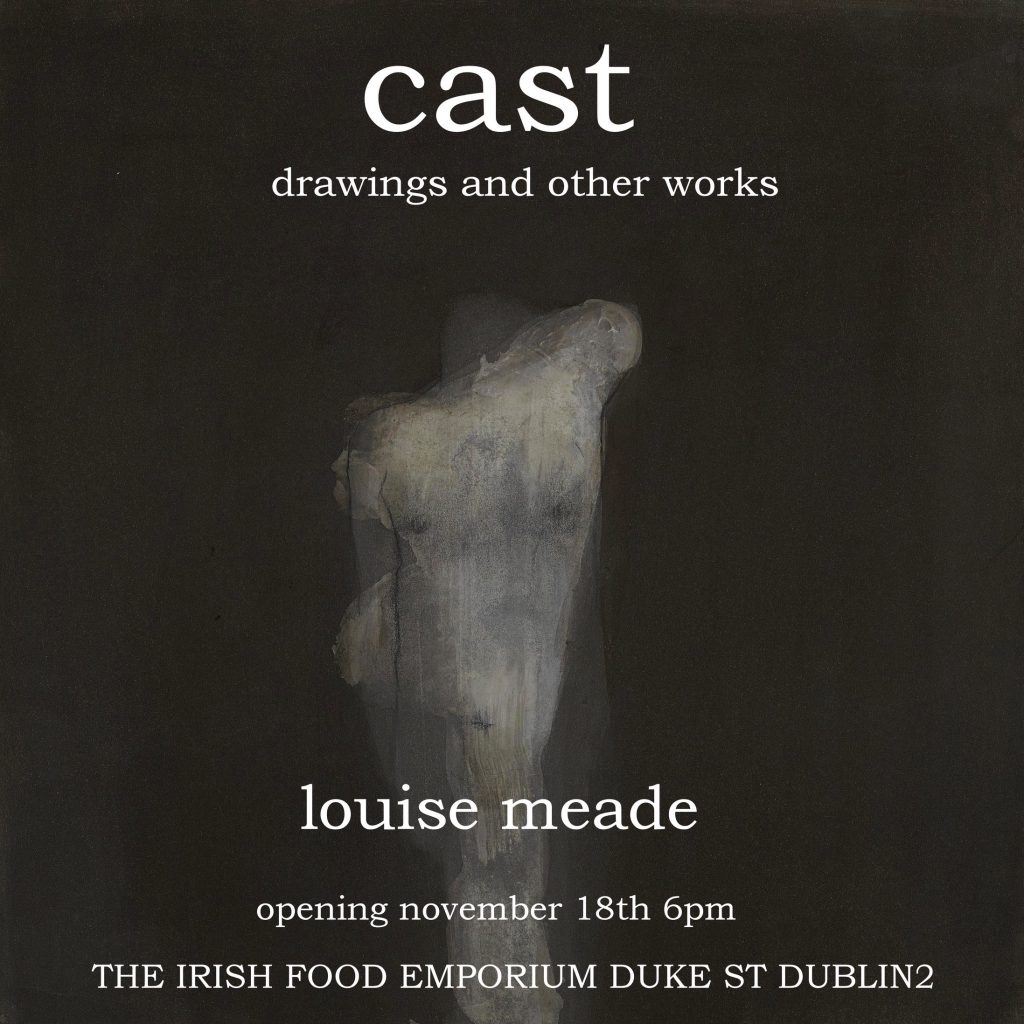 From the 18th of November she will be having a pop-up show at
THE IRISH FOOD EMPORIUM . DUKE ST . DUBLIN
Links: