IdirMiseagusCraiceann do Chluaise is a new production by queer arts collective AerachAiteachGaelachwith generous support from cultural organisation OireachtasnaGaeilge.
It means "Between me and the skin of your ear".
Written, directed, and produced by Ciara Ní É and Eoin McEvoy, founders of AerachAiteachGaelach.
IdirMiseagusCraiceann do Chluaise – listen to the voice of Alan Walpole, a gay Irish man, as he explores key life memories with heartfelt frankness.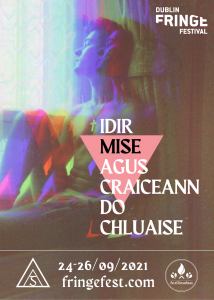 The ubiquitous gloom and oppression of Dublin in the 1980s was felt particularly keenly by the LGBTQ+ community. In his early twenties Alan fled Ireland for the rainbow splashed dancefloors of England, hoping for a better life and more freedom. Throughout the years he felt split in two, always looking back to Ireland. He returned in 2018, three years after the marriage referendum, and  was faced with a society utterly changed. But what does that mean for him, after thirty years of exile?
This immersive audio production is a site-specific promenade show. Each audience member is equipped with an MP3 soundscape and has a solo experience, listening to Alan's voice as they physically follow the story through our set. This promises to be an imaginative and sensory journey for the listener, as they are guided through the sites of various memories, immersed in Alan's experiences. The next audience member follows 5 minutes behind.
Poets Ciara Ní É (founder of spoken word event REIC), and Eoin McEvoy (best known his 2020 rap 'SeomoSpás') constructed the script for IdirMiseagusCraiceann do Chluaise using Alan Walpole's testimony, as told to them in a series of interviews.
Two other members of AerachAiteachGaeach also feature in this unique hybrid production: the voice of skilled soprano Aoife NíMhórdha is central to the soundscape, and several specially commissioned art pieces by Tadhg Ó Ciardha will feature in the set.
Listen, laugh, and dance your way
through the life journey of a queer Irish speaker.
Audio in Irish. A written English translation will be provided.
Venue: Club ChonradhnaGaeilge, 6 Harcourt Street, Dublin 2
Dates: 24-26 September 2021
Times: 13:00 – 21:35 daily. Running time 25mins.
Tickets: Fringefest.com
AAG online: